FAQs
What if we want a design different to the website designs & prices?

You can email your specific measurements & some photos of the opening to info@spacemakerwardrobes.com.au & we will be happy to send you a quote.
Do you come out & do measure & quotes?

No, we are an online business and all of our standard designs & prices are on our website, along with instructions on how to measure and design your own spaces.
What will I need to do if I am installing doors onto tiles/polished floor/floating/vinyl or laminate planks?

The bottom door track can be directly fixed onto any of these floor types.
What will I need to do if I am fitting my doors onto carpet?

You will need to order from us (or from your local Bunnings) a 90 x 19 floor batten which will be screwed to the side jams before the doors are fitted.
Will I need to advise what my floor type is where the doors are being installed?

Yes, there is a drop down box on the order/measurements page to record this information.
What are the wardrobe door top & bottom track sizes?

Both top & bottom tracks are 83mm wide.
How do I remove the doors from the box?

You will need to carefully lift each door from the end where the wheels are located & gently slide the door from the box.
What will I need to unpack my order?

You will need a reversible drill or screwdriver to remove screws from the top of the box.
How will my order be packaged?

All of our orders are fully packaged in a sturdy box for freight transportation. If you live within 200km radius from the Gold Coast in Queensland your order will be hand delivered without packaging.
What measurements do you require?

We require the opening dimensions where the doors are going to be fitted - please refer to our 'How to Measure' page under 'Support'.
Do the doors come with side jams & bulkheads?

No, jams & bulkheads are not included in our prices. If these items are required, you will need to send an enquiry from our 'Contact Us' page.
Do the doors come with tracks & wheels etc?

Yes, door prices include top & bottom tracks & fully assembled doors ready to install.
Can I have different door inserts in the same opening?

Yes, to do this you need to select gyprock or vinyl doors then select add a mirror door to the opening in the drop down box.
Do you make doors to suit our opening sizes?

All our doors/products are custom made to suit your measurements.
How to measure DIY sliding wardrobe doors
Accurate measurements are vital to ensure your new sliding wardrobe doors fit perfectly. Fortunately, obtaining accurate measurements is easy if you follow the steps outlined in this guide.
"You do not need to adjust your measurements for door overlap or do any calculations; we will do all of this for you. All you need to do is provide us with the overall measurements of the wardrobe door opening. "
Requirements
Tape measure
Pen / pencil
Preferable: spirit level (a spirit level will allow you to determine if your floor is not level).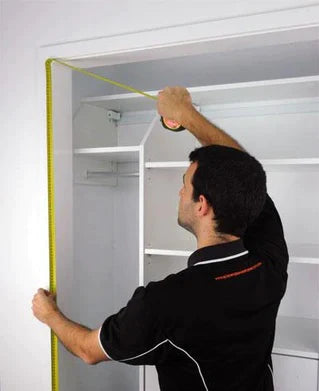 Measure the height of the opening
Measure both the left hand and right hand heights.
The doors will be made to the smallest measurement provided to ensure that they are able to slide both ways.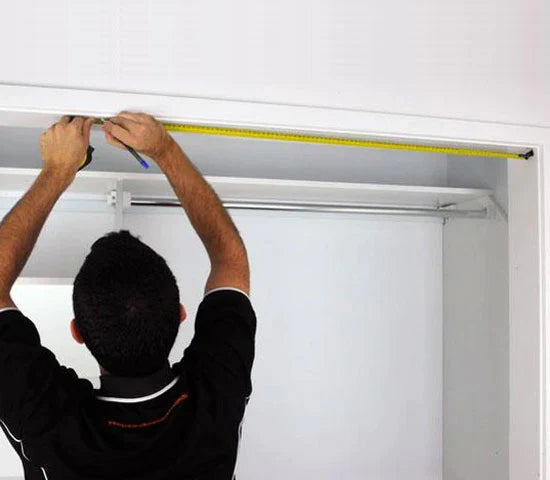 Measure the width of the opening
When measuring the width, the best way to get accurate measurements is to follow these steps:
From one side, measure out to 1000mm (1 metre) and make a small mark with your pen / pencil.
Next, from the opposite side, measure the distance to the 1000mm mark.
By adding these two measurements together, you will get a very accurate width measurement.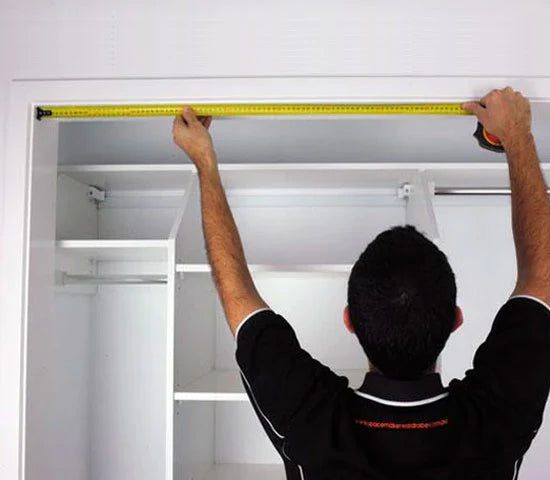 Measure in two places, both at the top and bottom. If there is a significant difference (i.e. more than 5mm) between the top and bottom widths, we will need to know which side is out of plumb (not straight vertically) so that the doors can be made to suit your opening.
Additional things to consider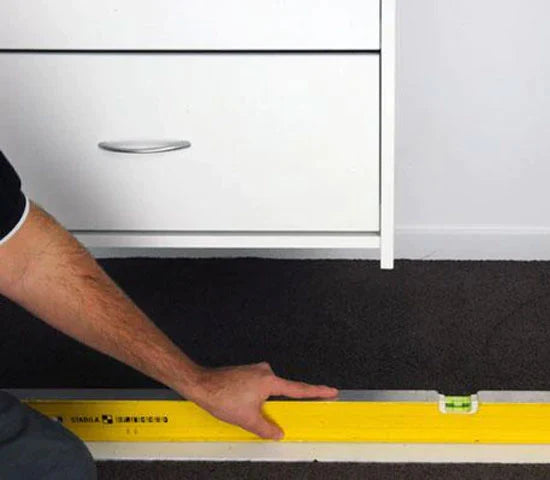 Check if the floor is level
Use a spirit level to ascertain how level the floor is. If the floor is significantly uneven (more than 3mm over a 1500mm span), your doors may slide to the lowest point.
A good technique for measuring levelness is to place some coins under the lowest end of the level until the bubble is centered. Depending on which coins are used, you will be able to get a very accurate measurement by using the following information;
5 cent coins are 1mm thick
10 cent coins are 1.5mm thick
20 cent coins are 2mm thick
50 cent coins are 2.5mm thick
1 dollar coins are 2.5mm thick
For example, if you needed to use two 20 cent coins and one 5 cent coin to centre the bubble, your floor would be 5mm out of level.
If your floor is not level, a good option is to install a floor batten. The floor batten would need to be either packed up or planed down to make it level.
If you require a floor batten, please let us know and we can supply you one with your order for free.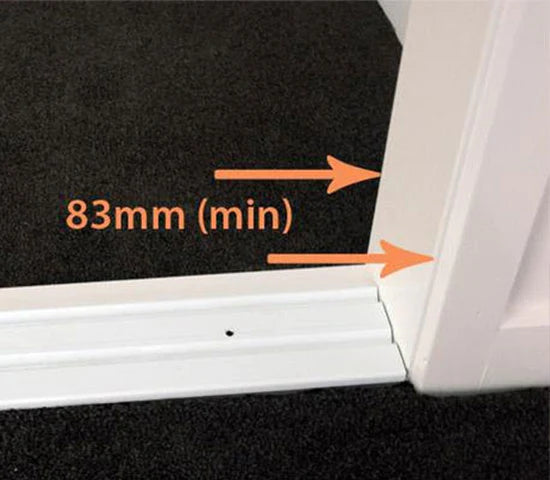 Measure the door jambs (top, bottom & sides)
Measure the door jambs (top, bottom & sides) and make sure that they are at least 83mm wide. This is to ensure that the top and bottom tracks will actually fit in the opening.
Important Information
If the new doors are to be installed on carpet, you will be required to fit a 90 x 19 floor batten on top of the carpet between the jambs for the doors to roll on. This will be supplied for free
Door tracks can be fixed directly onto timber floors, door jambs and tiled floors.
Warranty Information

Your Spacemaker Wardrobes products are guaranteed for 15 years against defects arising from faulty workmanship or materials, as long as the products have been installed and used in accordance with our recommendations. Please read our Policies for full details.
What next?
Visit the online shop to find prices and to place your order